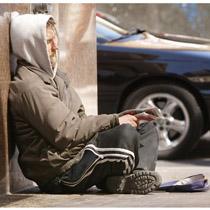 Short answer: No. Long answer: No and Yes. A
report
came back yesterday that made some recommendations to city council surrounding the issue of panhandling. What the report found out was that people were not so much concerned with panhandling but rather with the sense of security in certain areas. In fact the study found out that many Saskatoonians feel unsafe going into certain areas at night. Downtown, 20th street, Broadway were frequently mentioned.
The report recognized that there are wider issues of mental health, addictions and poverty that come into play and further recognized that unlike Calgary and other centres that they examined we do not have sufficient resources where folks in need can be directed to. The second recommendation in fact recognized that the "larger issues" are largely provincial areas but that the city could play a role in the following areas:
(a) designing projects that are right for Saskatoon and building support for them;
(b) finding private funding to assist with such projects; and
(c) making the business case for Government funding for such projects.
The report noted that in Calgary intox facilities (for example) were run by non-profit organizations and that having them run in such a way was preferable due to the likelihood of receiving ongoing private funding.
In fact, all of the subpoints the committee made in regards to addressing the larger issues of homelessness, addiction and poverty through establishment of facilities and housing initiatives make a lot of sense. What doesn't make any sense though is the recommendation to hire five "bylaw officers" before there are facilities in place to actually address the larger issues.
In Calgary, the city that is mentioned as having this program in place, "bylaw officers" are used to interact with the panhandlers and people on the street in their given area. When someone new comes in the area they know who they are and what they are about and when required they can direct them to appropriate facilities such an intox centres or shelters or low-cost housing. As the report points out, Calgary has a wealth of these facilities (again...privately/government funded--not city funded); and, as the report also points out, Saskatoon does not have sufficient facilities. Our intox centre is regularly full by early evening.
So, the question I have is where are our "bylaw officers" going to be directing people to go to?
If there are no services (and there is a recognition that sufficient services are currently not available) then what is their purpose? It appears that the sole purpose of the "bylaw officers" is to provide a sense of security to the general public. Isn't that what our police are for?
If we are going to create a program that is designed to help panhandlers or those with addiction problems or mental health issues, let's make sure we're actually helping them. Hiring 5 bylaw officers when there is no infrastructure is really just a band-aid solution that is designed to make the public feel good about going downtown at night. The only thing they realistically will be able to do is call the police. And that can be done by the very shop owners, restaurant owners and bar owners that are also in the area.
Feeling safe is not a bad thing. That is what the police are for. If we're talking about helping people off the street, we've got to have viable solutions. What the report points out is that it is private, non-profit organizations that are best suited to address those concerns. What Saskatoon should be doing is finding those local non-profit organizations interested in helping folks off the streets and aiding them in securing funding from private and provincial government sources--ie all the things the report indicates in its second recommendation. Once that is done, then and only then should the city entertain the possibility of hiring "bylaw officers." To do it the other way around is really putting the cart before the horse.
Carts are useful. They are exponentially more useful when pulled by a horse. The way the current report is structured is backwards. If it is turned around, then it becomes much more palatable. But, in its current form, it would be a further waste of $550,000. Let's hope City Council gets this right.
This post is up for discussion.