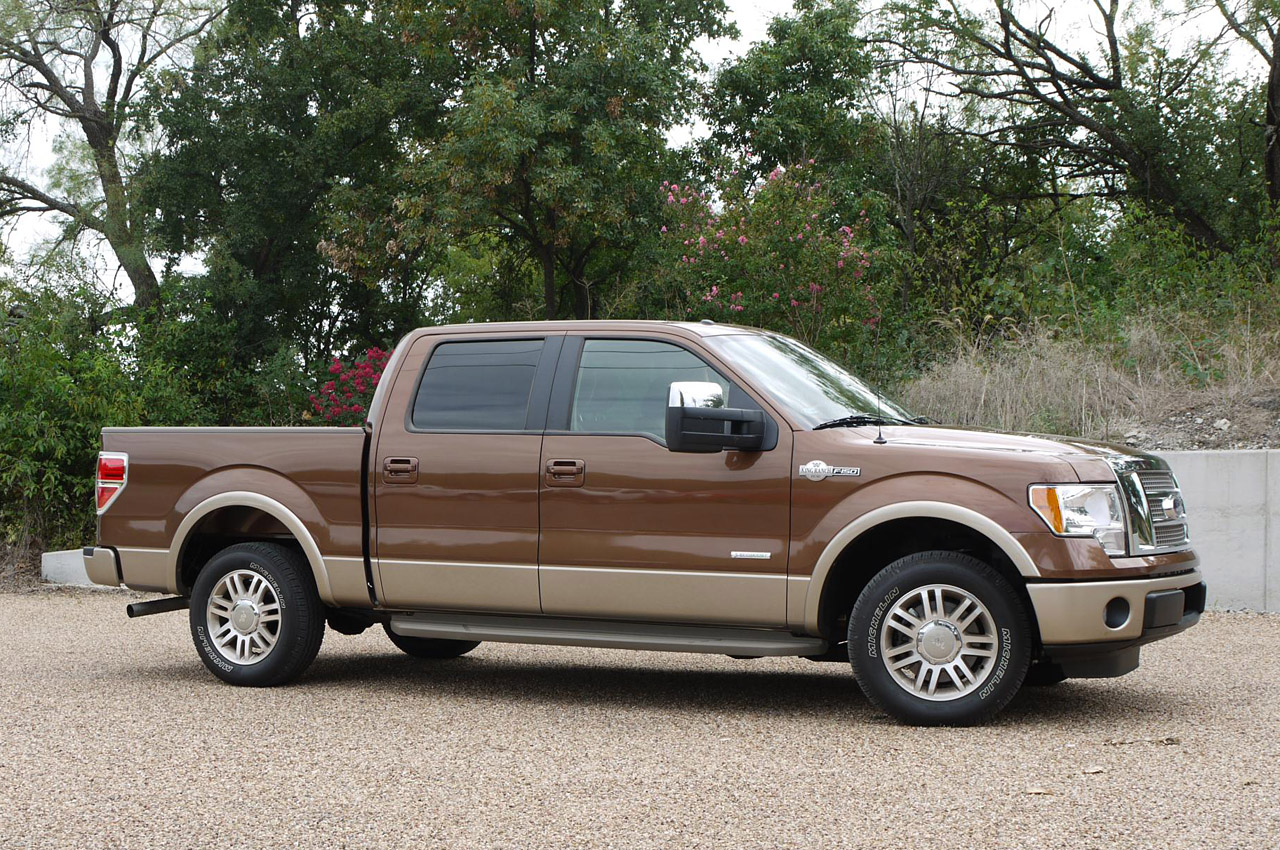 For the past couple of weeks, I've had the opportunity to test drive a Ford F-150 EcoBoost. Basically it's your
regular
standard 1/2 ton but instead of an 8 cylinder engine it's got a turbo-boosted 6 cylinder engine. I honestly couldn't tell you if there's much of a difference between that and the 8 cylinder engine as my Kia Magentis is a 4-cylinder sedan.
For an informed review go here
It had been a while since I'd driven a big truck. The last time I'd been in a Ford truck was in my tree planting days. We had the V-10 Triton F-350's back then because we needed that power for all the off-roading with full loads required in the bush. The EcoBoost I've been driving for the past week or so is a far cry from the utility vehicle we drove tree planting. Fully leather heated/cooled seats with dual passenger air-conditioning; satellite radio, GPS, 6-directions to adjust your seat, adjustable steering wheel. My biggest complaint is that in the truck I have, it doesn't look like the volume control/tuning device works from the steering wheel, so I actually have to adjust manually. Woe is me.
The main difference I noticed between the F-150 EcoBoost and my Kia is the gas mileage. Although the gas mileage is probably better than other similar 1/2 tons, it's still lower than what you would get out of a sedan. But, if you need a bigger vehicle, then a sedan isn't going to cut it.
Later this week, I'll be taking my daughter on a roadtrip to the dump in the truck...she's been dying to go for a ride. I'll let you know how easy it is to put in the child seats in the back...although, with the thought that appears to have gone into this vehicle, I don't expect too many issues with that.
All in all, the past couple of weeks have been fun.
I'd be interested in hearing your thoughts on a couple of issues:
Do you drive a truck?
Would you ever drive a truck? Why or why not?
Lastly, I got the opportunity to drive this vehicle in exchange for a review here. What are your thoughts on social media (blogs) being used as a marketing tool? Although, I have free reign to write what I want--in the end, I do use my platform to talk about a vehicle I otherwise would not have had the opportunity to drive. Is there an opportunity to do this (review vehicles) and still maintain the integrity of the blog--discussing/debating the larger questions?
This blog is now up for discussion